Day 1 October 6, 2013
_____________________________________
Sunday, October 6, 2013
Moran, Wyoming

To travel a circle around Yellowstone and Grand Teton National Parks in autumn is to enter a golden world spiked with red, orange and green. The first week of October is cool enough to bring elk down from the high country yet warm enough for bears to linger for their last feast before heading toward winter dens. We are lucky. Barricades cross entrances, roads and trailheads. The government put a lock on our plans, but here we are surrounded by mountains, grazing horses, peace and quiet.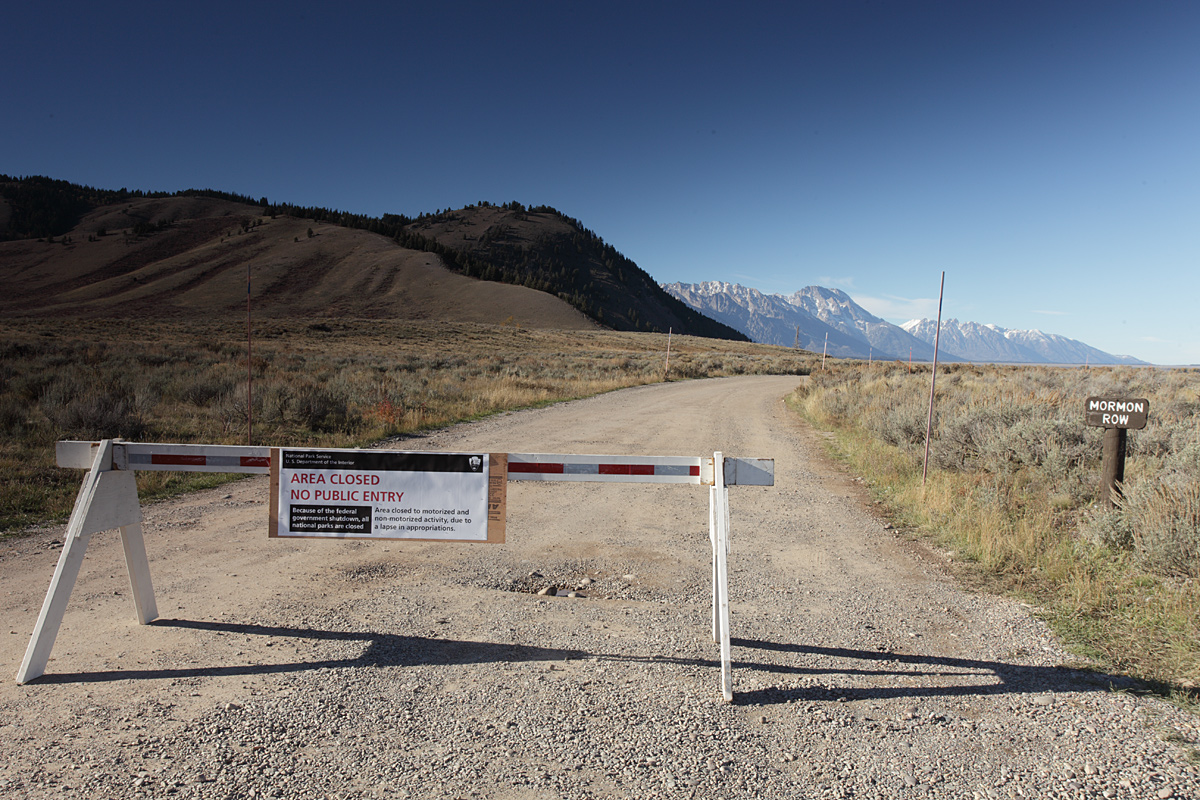 Patches of ice cross the driveway this morning and frost coats car windows. Temperatures in the 20s are refreshing after Texas heat. Technically there is no stopping on North 191 though there are no signs that say that. It passes through a short section of Yellowstone National Park where trailheads are cordoned off with yellow ribbon. Still, we are in Yellowstone, covered with fresh, white snow. In the center of a stand of pine trees a bull elk with an enormous rack grazes, head down, nibbling patches of grass. This is what Yellowstone looks like in the morning.
Fog lifts slowly from Hegben Lake. The road along its shore passes cabins and restaurants and horses, mountains rising behind them. Bare trees protrude from Quake Lake, created by a 1959 earthquake. A bizarre sign points to the lake declaring "Night of Terror." The rest of the road winds through rolling ranch lands and suddenly we are in Idaho, log cabin retreats all around us.
On the way to Grand Teton we take the Mesa Falls Scenic Byway along the Henry's Fork of the Snake River.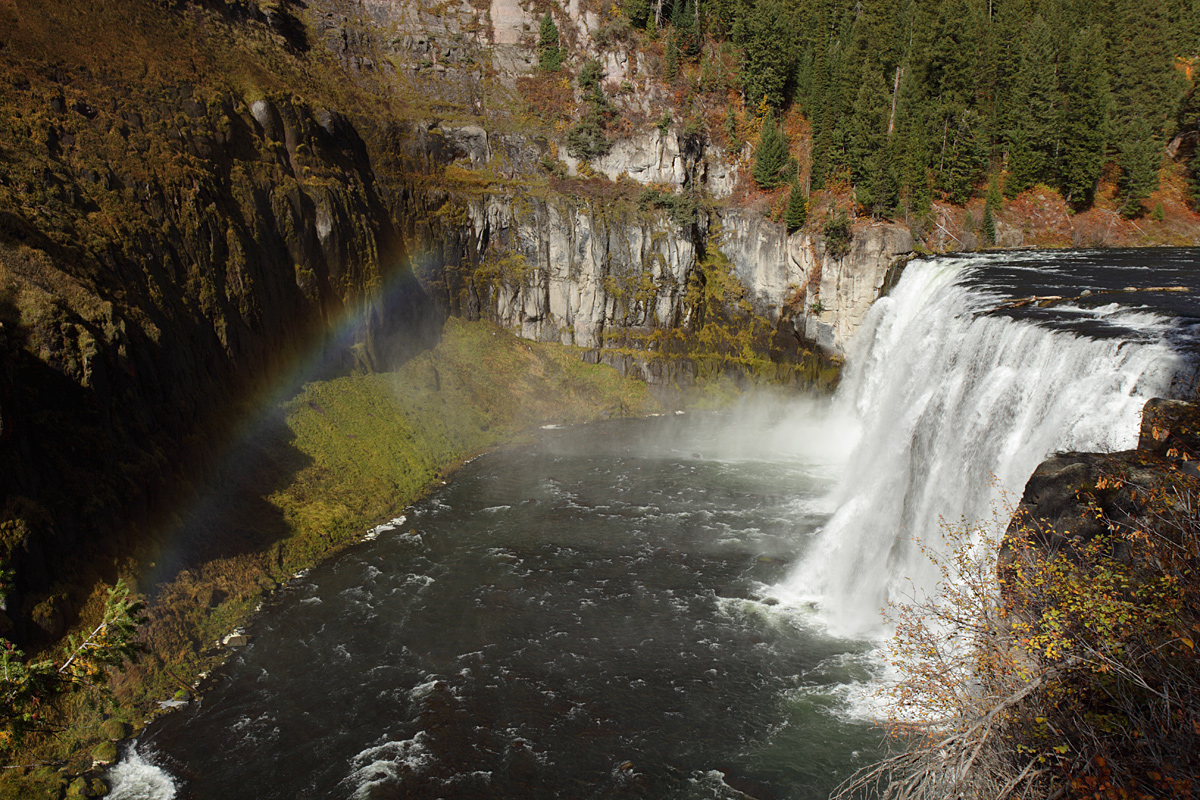 The upper falls are like none I've seen before. Deep in the river canyon ravine, 967 million gallons of water pour over its rocks each day. A rainbow arcs over the falls, a band of yellow, orange and purple, the river crashing between hillsides covered with pine trees. Big Falls Inn sits at the top of the stairway descending into the canyon, built sometime between 1907 and 1912 to benefit from tourist trade. Closed in 1930 and later restored, it is now an interpretive center and book store open during the summer.
Later we hike around Harriman State Park, formerly owned by the Union Pacific Railroad. Wooden cabins dot the property that is home to a variety of birds and animals. Today a family of swans float the waters of Silver Lake. Pastures surrounding the retreat are filled with black angus cattle while a couple of horses roam outside barbed wire fence. A popular venue for trail riding, horses quietly stand tied next to trailers in the parking lot.
The drive to Jackson through Driggs, Idaho, passes through seed potato, barley and wheat farms. Jagged Tetons loom in the east overlooking farmland running in neat brown grooves. A pair of horses, one chestnut, one gray, step across rocky farmland alongside the highway. The land is unfenced, but the horses seem to know where they are going.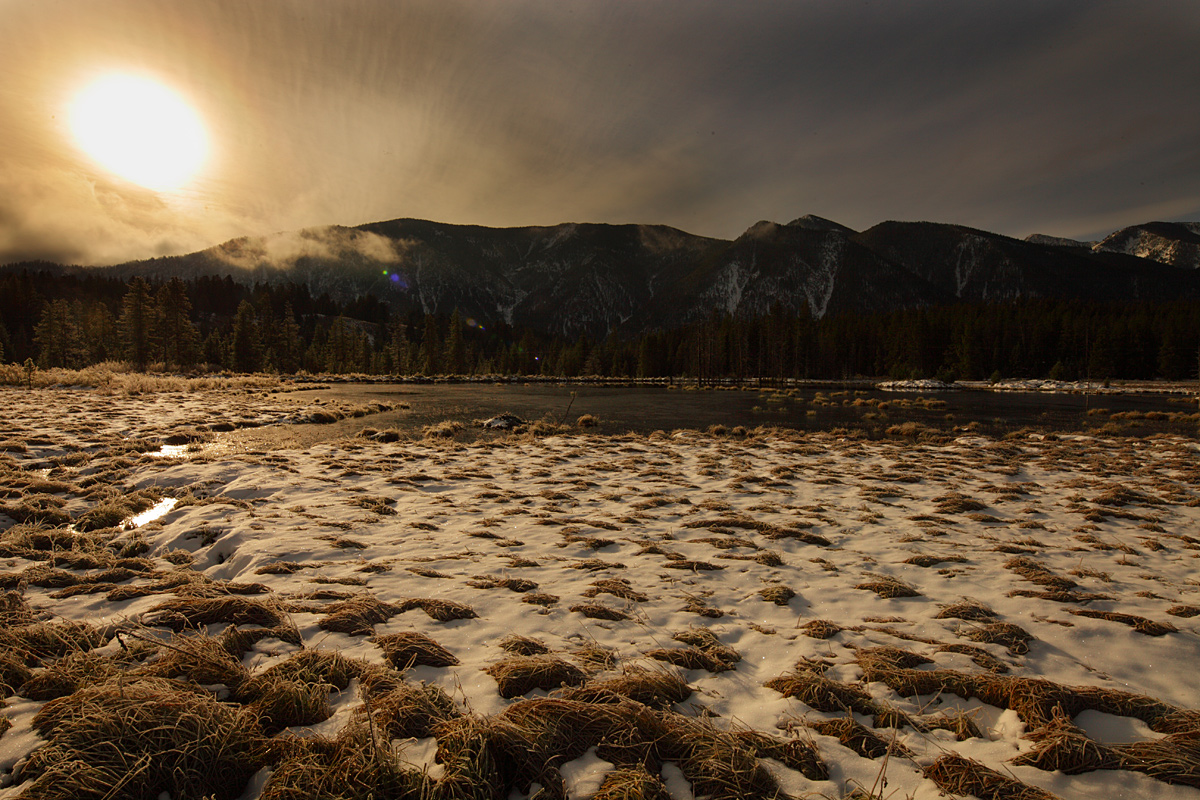 Grand Teton is closed, but some visitors do not letting that keep them from enjoying parts of the Park. Cyclists ride paths just outside the entrance; tourists pose in front of the entrance sign. Turnouts are still open and there are a number of paths leading to the Snake River. Antelope leap through golden meadows while a chocolate colored moose grazes quietly. In some ways the shut down has not changed anything.



Author - Christine Baleshta
Photography - Tim Springer


Click for larger image