Day 1 and 2 May 13-14, 2015
_____________________________________
Wednesday, May 13, 2015
Gardiner, Montana
Standing in the airport parking lot, gazing at the blue sky over Billings, mountains in the distance, this is how May should be - sunny, a crisp 50?. It's been almost a year. I forgot how long the drive from Billings to the Park is, even skipping past Red Lodge, but winding through Bridger and Fromberg with their horses and sheep and cattle is a refreshing new route for us. Past the familiar miles that fence Two Dot Ranch, red rocks sheltering the road. The Beartooths and Absarokas are still capped with snow, emerald green valleys below. Near Fox Creek Campsite, a black bear climbs over deadfall on the west side of 212. We drive past, then turn around. The bear steps over fallen timber, then lopes up the hill, gingerly stepping across a long log that's fallen across a ravine.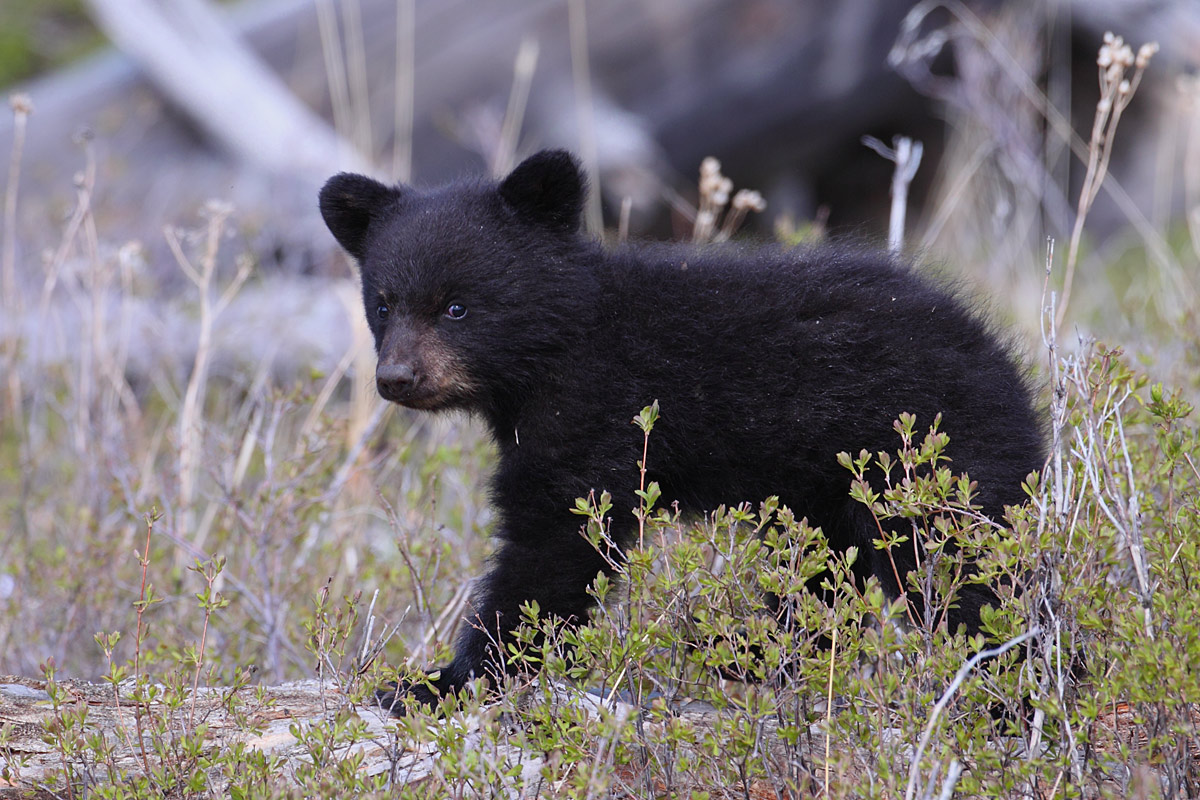 We finally drive through the Northeast Entrance around 5:30 p.m. There are pronghorns in Round Prairie - we've never seen them there before - and elk grazing high on the slopes along the road. Wolf watchers gather at Hikers Bridge and Hitching Post, waiting to catch sight of 926F, the alpha female of the Lamar Canyon Pack or her new alpha male, called "Twin." In early March, 925M, 926F's mate, was killed by wolves from the Prospect Peak Pack. 926F and their yearlings escaped, but the pack scattered. In a twist of fate only possible in the wolf world, four males from the Prospects began hanging around with 926F. Two of those males, Twin and "Mottled" (named for his unusual coloring) have stayed with 926F since she denned and have been seen carrying food back to the den.
Lamar Valley is filled with bison and this year's calves. Passing through Lamar Canyon, we stop at Slough Creek to check on a bison carcass we've heard about. The bison was old and died of natural causes, but what's interesting is that no animals are feeding on it - not even ravens. The crowds watching are large and noisy, and some are way too close, so it's no wonder wolves will not come to the carcass. Bears probably don't care.
We have never stayed in Gardiner before, on the surface a little "Northern Exposure." I wonder what the town is like underneath the small houses and businesses perched high on the hill or along the Yellowstone River, all overlooking its rushing waters. Looking out towards the Park are hills and mountains, green and brown. A deer grazes at the edge of the Super 8 parking lot and strolls across the main street toward Helen's on the other side.

Thursday, May 14, 2015
Gardiner, Montana
At six in the morning, clouds part above Gardiner revealing powder blue sky. An elk grazes across the street in front of St. Williams Church. Cliffs rise above us as we wind our way up past the campground - now full - towards Mammoth. The Boiling River is closed due to high water. The resident elk are out in force and we carefully weave past them. The temperature is 41?.
We drive past familiar stops -Phantom Lake, Floating Island Lake, Blacktail Ponds, Hellroaring and on through Little America to Slough Creek. There is nothing at the Slough Creek carcass this moment. We missed a wolf earlier - very much earlier. On through Lamar Valley to Soda Butte Cone, checking for sightings at the Lamar Canyon den site. Then back past Slough Creek to Little America, and back again to Slough Creek to watch a grizzly forage on the high slopes on the south side of the road.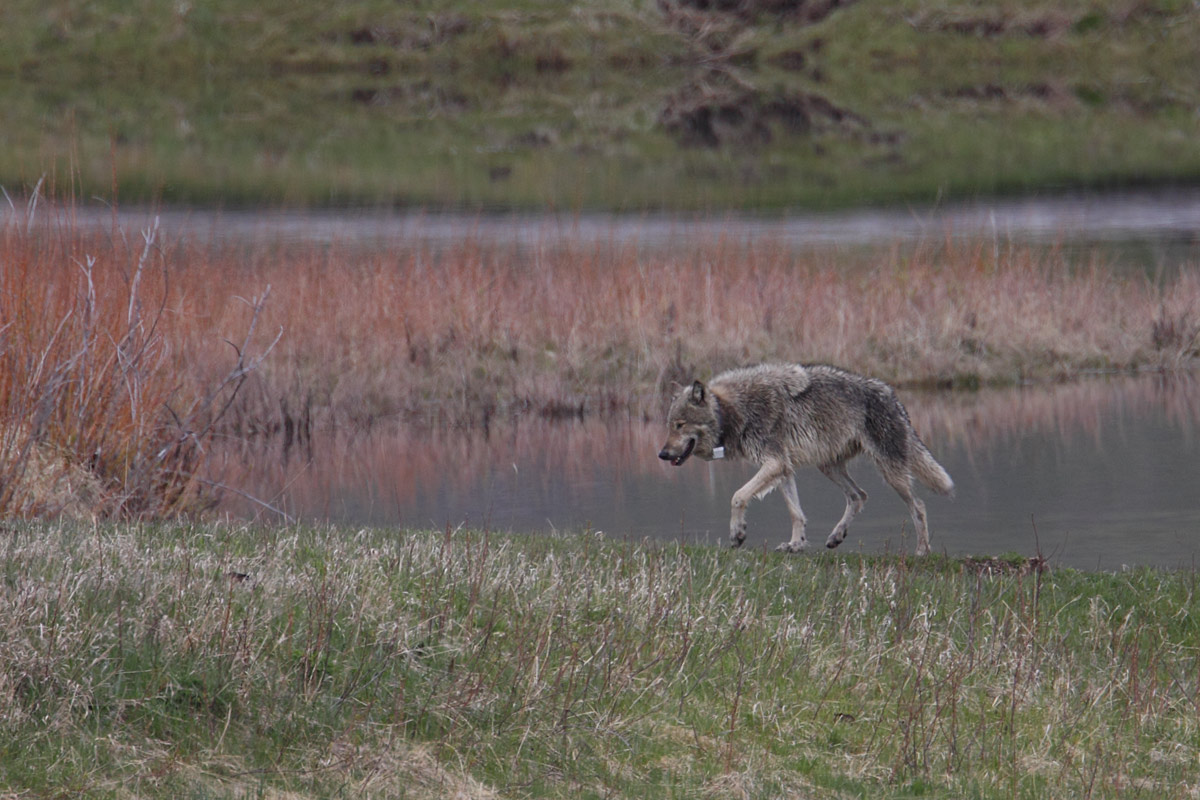 Antelope prance and lope. Bison are everywhere with this year's new babies. Some calves are quite large already and must have been born the end of April or beginning of May. They run after their mothers and each other. We have already seen a few bison stampedes with mothers and babies racing across fields and even park roads. Today we approached Lamar Canyon Bridge as a group of bison cows with calves and yearlings trotted across the bridge and suddenly broke into a run, diving into the grass on the south side of the road, toward Specimen Ridge. They may be used to "us" but they seem to panic, frantically trying for escape.
We are on our way toward Tower to look for the sow with last year's triplets when we hear there is a grizzly across from Slough Creek. It doesn't take long to find him in the meadows below the snow capped peaks. He is light colored with dark brown legs and hind quarters, foraging in circles while bison nearby seemed undisturbed. There is quite an audience of college students, school children and visitors of all ages. Three young people in their twenties from England chat with us as we invite them to look through our scope. They worked at Marmot Ski Resort in Jasper last year and have been traveling around Montana for about a month. They are fun to visit with, the chattiest reminding Tim of Hermione in Harry Potter.
We are headed toward Tower again when we hear wolves are at the Slough Creek carcass - two grays and a black - 911M, 890M and 907F. 890 and 907 are gone before we get there, but 911 is still at the carcass. He is a large, handsome gray with shades of brown in his fur. He swam the pond and stayed by the carcass, while the other two wolves moved east and may have crossed the road and gone up Crystal drainage. 911M is the alpha male of the Junction Pack, 890M is the previous alpha male and 907F has had pups this year. We haven't had many sightings of these wolves. Last year we saw one of the Junction yearlings, a magnificent gray male, on the north side of the road near the Specimen trailhead. 911M, originally from the Blacktail Pack, is a new wolf for us, as are most of the Junction wolves.
911M stays at the carcass a long while, tugging at portions, though he never really feeds or carries anything away. After about 20 minutes he moves west. We follow him in our binoculars, trotting through the sage, behind benches until we can't see him. He crosses somewhere after the Lamar Bridge. Later 911M tries to dig out a coyote den in the banks above Slough Creek. The coyote parents immediately move their pups. We wait and watch but never see the coyotes or wolf and when it starts to rain, we leave. The coyotes look good this year. Last year there was a case of mange which may be the reason we hardly saw any coyotes during our June 2014 trip.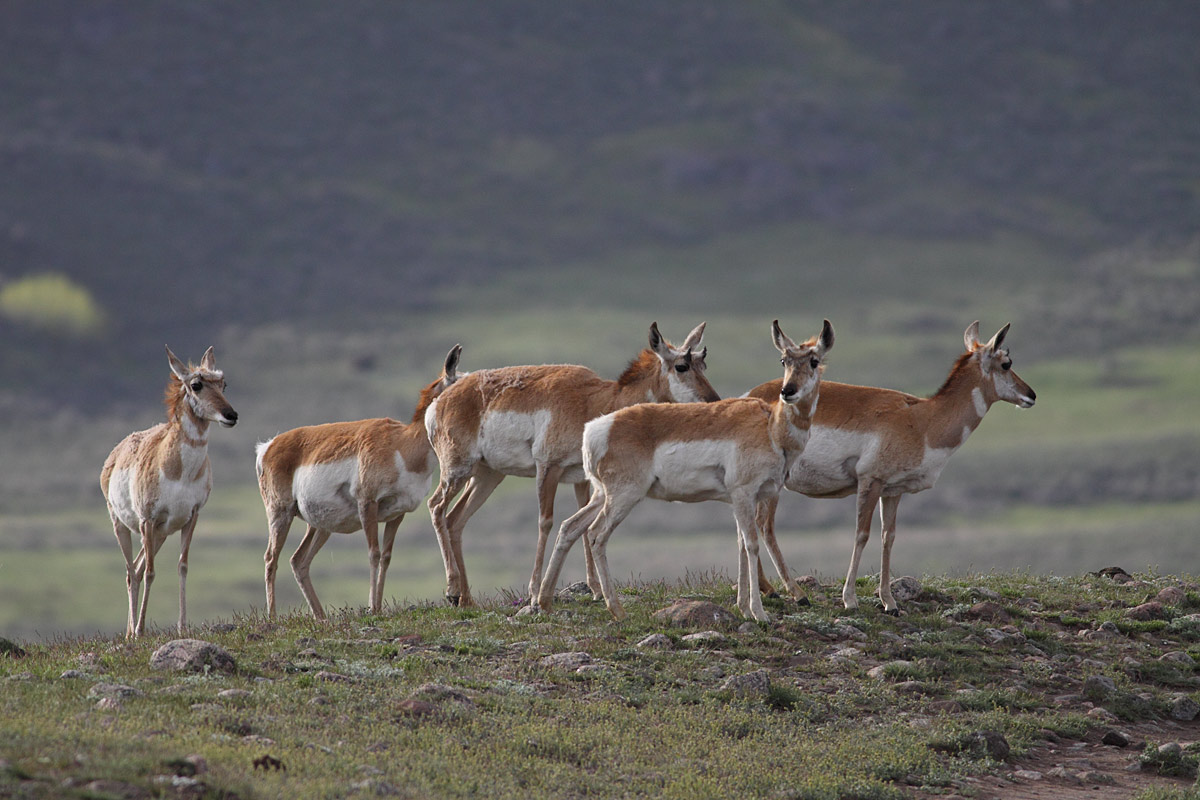 We drive up Tower Road again looking for last year's black bear sow with triplets. All three cubs are now about 13 months old and seem to be doing well. Today they are not in the Yellowstone Picnic area or Rainey Lake or Calcite, but the peregrine falcon is on her nest in the high ledge above Yellowstone River. She sits patiently in the narrow cave she has adopted for her nest, a delicate looking blue gray bird.
We return to Slough Creek for carcass watch when it begins to rain, a steady beat of drops which confines us to the car. Slough Creek, with its graceful bend of water and green slopes, is as serene a place as we can imagine. No animals come to the carcass and even more unusual - no birds. We see a vulture, the first we've seen in Yellowstone, and a couple of ravens, but they barely pick at the bison.
We wait and decide to look for the black bear and cub at Petrified Tree. Driving up the narrow road past a ranger and visitors, there she is, at the top of the hill overlooking Elk Creek with her cub in tow. She is a good sized black bear, though the ranger says she is a young bear and this is her first cub. The little one stumbles behind its mother, sometimes struggling to keep up. His hind legs buck in the air and he falls over logs, suspended for a moment. The bears work their way down the slopes, covered by deadfall and cross the road, loping, descending the deep gully into Yancy's Hole. Wildflowers are just beginning to bloom - larkspur and arrow leaf balsamroot, prairie smoke. Sandhill cranes and geese peck at the grass as Slough Creek winds its way through Little America.

Author - Christine Baleshta
Photography - Tim Springer


Click for larger image