Sign our

---
Favorite Yellowstone Links
Yellowstone Tetons 2004 Trip Reports
This is the work of Michael Williams. It chronicles his travels in the Grand Teton and Yellowstone National parks. A real labor of love, this site gives a great day by day description of what it's like to visit the park. Michaels narrative is descriptive, informative and entertaining and his photography is excellent. The next best thing to being there. (Don't miss the griz video!! Power and grace.)
Yellowstone National Park
This is the official page from the National Park Service. Lot's of information including road closures and general park visitation tips.
Yellowstone Webcams
Watch all the Yellowstone National Park webcams on one page. Old Faithful, Mammoth Hot Springs, The North Entrance and more.



Rare bear sighting "captured" on Mammoth Webcam
by Dan Stuller!
His Yellowstone Addict site here: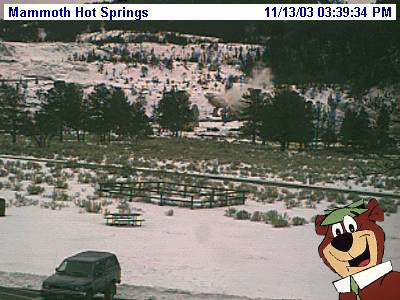 Ralph Maughan's Wildlife Reports
This is the site of Dr Ralph Maughn who tirelessly reports the environmental news of the Greater Yellowstone Area. Always up-to-date you can get news here you can't get elswhere and his wolf information section is excellent.
---
Yellowstone Weather
Yellowstone Park Weather - Accuweather
This is the weather report for Yellowstone National Park. Daily information as well as forcasts for future days in the park.
Mammoth Hot Springs Weather - Wunderground
This is the weather report for Mammoth Hot Springs. Daily information as well as an 8 day forcast to see what you are in for.
---
Yellowstone Enthusiasts Sites
Jim Swayze's FLYFISHING YELLOWSTONE PARK
A great flyfishing site created by Jim Swayze. "Straddling parts of Wyoming, Montana, and Idaho, Yellowstone National Park is the spiritual center of American fly fishing. Anglers the world over dream of baptism in its magical waters." Photos, info and a great hatch chart to really get you into fish on your trip. Beautiful and informative.
Ray's Yellowstone
A really nice site from Ray "The Bearman" with lot's of animal pictures and small fun movies. Highly recommended he updates often and has some great shots of the park wildlife.
The Total Yellowstone Page - Trip Reports
This is a large site full of wonderful trip reports from many years of traveling to the park. These people obviously love Yellowstone and their reports are really fun to read. The next best thing to being there.
---
Yellowstone Commercial Sites
Yellowstone Park Net
This is complete site on traveling to Yellowstone. Various tours and commercial information.
Wild Life Along the Rockies
A nice site by Dan and Cindy Hartman who sell photos of the animals in and around the park. They also have breif notes of their daily travels in the SilverGate-Northeast entrance area. Beautiful Pictures.
National Park Services
A listing of the available lodging in and around the park.
---
Yellowstone Chat Pages
The Yellowstone Net Discussion Forum
This is my favorite chat page from a small but intense group of park supporters. It can get political here and impassioned but these folks try to stick to the facts and there is a great deal to be learned here. Quite a few posts every day. I post here under the name tspringerw
The Yellowstone Addict Chat Page
This is a Yahoo group chat page populated by serious Yellowstone addicts. You know who you are. Joining is painless and enables you to chat with those of your kind and see many great photos by the people there. Excellent folks on this page. Lots of posts daily. Highly recommended.
The Total Yellowstone Loon Chat Page
This is a chat page populated by the Yellowstone Loons. A eclectic collection Park groupies. Their topics are all over the place but generally about Yellowstone. Tons of information here from some folks who really know the park. If you have a question just ask. Many posts every day.
The Total Yellowstone Chat Page
This is a chat page about basic Yellowstone topics. Fairly congenial, and always informative. Usually not that many posts a day, but still a great site to visit.